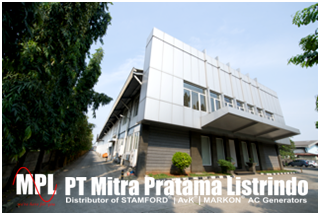 STAMFORD® AC Generator is one of the pioneering products and the world market leader in brushless AC generators in its capacity range, the STAMFORD® brandname was earlier introduced to Indonesia generating set industry in mid 1970s. The large market potential in this industry supported by the urgent need to supply local industry at that time was the primary reason why Cummins Generator Technologies Ltd (CGT) - formerly known as Newage Engineers Limited (UK) – made the decision to build a full factory plant in Indonesia, known as PT Newage Engineers Indonesia (NEI) with initial production capacity projected for 1000 units/year. PT NEI operated from 1981 until it ceased operation in 1998 due to the Asian financial crisis.
As an initiative to sustain its support for STAMFORD® product range in Indonesia following PT NEI's closure, PT Mitra Pratama Listrindo (MPL) was appointed in 1999 to distribute by importing from STAMFORD® factories sourced from certain industrialized nations and at the same time responsible fully for warranty and after sales service for all STAMFORD® products imported into Indonesia.
PT MPL business operations currently reside at the former PT NEI factory at Jalan Pulogadung No. 21, Jakarta Industrial Estate Pulogadung, Rawa Terate – Cakung, East Jakarta 13920. It runs extensive workshop facilities and warehouse to keep a large range inventory of generators & parts and is supported by experienced and qualified technical staffs. PT MPL not only actively promotes the growth in STAMFORD® range generators but also to provide repair works for all kinds of rotating machines inhouse and on the site jobs when necessary.
We at MPL understand the needs of our much-valued clients; we provide ample stock provision of wide range generator capacity, parts and accessories to meet our client's frequent needs. We provide technical experts who are ready to assist our clients during the lifetime of our product in service, from assisting clients to select accurate technical specifications to generator purchase as well as troubleshooting support for our generator products in use. We guarantee the utmost peace of mind and safety when you choose our genuine STAMFORD® product, true to our commitment to serve: "we're here for you".